HUMAN RESOURCES SOLUTIONS

A proactive approach to human resources
Making sure you employ the right people with the right skills and knowledge is critical to your business success. Recruiting, retaining, and developing staff in today's complex environment can be a challenge and takes valuable time away from running your business. We provide Trenton, Belleville, Kingston & surrounding areas with human resource solutions suited for your business. 
Dealing with difficult employee situations like accommodations, harassment complaints, or employee terminations can make you feel out of your league.
We are pleased to announce that we now offer a full suite of Human Resources Solutions with a goal to assist you in effectively managing your businesses' human resources needs and ensuring you are in compliance with employment law.
HR Services available include:
Managing the employee life cycle

Designing and developing HR programs, policies, or training

Human Resources compliance audits

Executive Search
Human Resources Foundations
Many unseen elements contribute to making a great company. Strong foundations in human resources management theories and practices are one of those unseen elements. They play a critical role in shaping how a company is structured and are evident in the policies that guide the company on a daily basis. Whether your company has been in business for generations, or is just getting started, these foundations can help guide you, or solve current problems getting in the way of your company's success.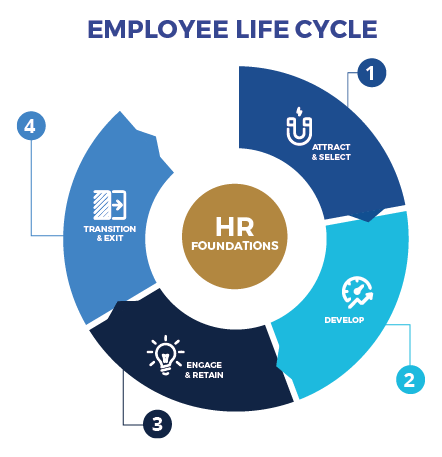 1. ATTRACT & SELECT: Recruitment
Bringing the right people into your organization is key to building long term business success, but these days it seems a lot harder to find the required talent. Our full service recruitment solutions help you identify what you need, where to find talent, and how to optimize the interview process to get the best candidates.
Writing job descriptions  & creating job postings

Candidate review

Interview preparation & training

Conducting references

Handling job offers or rejections

Executive Search
2. DEVELOP: Performance Management
Like running a business, managing the performance of your workforce is a constant process.  It begins with ensuring new employees are given the tools and information they need.  Existing employees also need to learn new skills and techniques as your business grows or changes. Building a strong performance appraisal system and results oriented training and  development programs will ensure high employee performance and contribute to the continued success of your business.
Onboarding

Performance Appraisal Support or Systems

Development Plans

Training Programs
3. ENGAGE & RETAIN: Employee Engagement
Getting great employees is hard; keeping great employees is harder. In today's competitive market creating a company culture that makes you an employer of choice takes careful thought, planning and execution. Handling employee relations issues before they create negative outcomes is a strong factor in building a positive work environment. Tapping into what makes your employees want to work for you, or what makes them want to put forth their best effort are valuable knowledge pieces that can shape the culture of your company.  Examining not only what you pay your employees, but the other elements of their salary and compensation can help you identify the total rewards program that is right for your employees and your company.
Employee Relations

Employee Engagement Strategies & Initiatives

Employee Surveys

Total Rewards/Salary & Benefits Review
4. TRANSITION & EXIT: Employee Transitions
Employees leave companies for many different reasons. Sometimes it's a short term leave; other times it's a longer term leave such as parental leave or disability. Employees transitioning back into the workforce may need additional accommodation to make their return successful. In other situations, the employment relationship may need to end. Navigating the numerous leave and accommodation provisions, as well as termination related legislation can be difficult and require specialized knowledge.  Our services can assist with ensuring these kinds of transitions go as smoothly as possible for your company and are all within the appropriate legal framework.
Accommodation & Leave Provisions

Preparing for Re-entry or Terminations

Termination and  Severance

Employee Retirement & Transition Planning

Exit Interviews